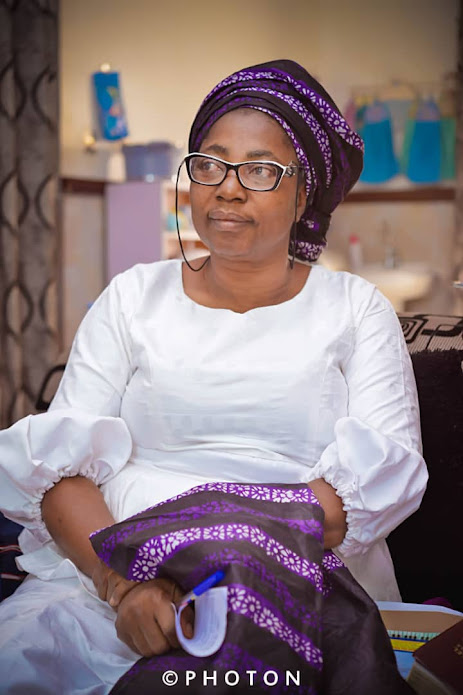 Founder and Proprietress
OLAMIDE ABIKE MAKINDE
Every person or thing has his/its identity and that's what makes anyone/thing different from the other. Glad to tell you that everyone has something, someone else may not have. Schools have some things in common that makes it what it ought to be, but there are values upheld by one that may not be appreciated else where. This is the singular reason why you need to know where you are and prepare to benefit maximally from it by your simple cooperation. Victory Kiddies (Int'l) Academy was conceived in 1997, the vision came and carefully nurtured to birth in 5th of January, 2004 in a rented apartment located in Dantata Street, not far from the present day main campus. Its a school born out of passion for children. Efforts were made to start in Kano in 1997, but it was not allowed. While waiting for the appointed time, experiences were gathered through teaching in both primary, secondary and tertiary institutions. It was not only that I needed a job but a ministry to the young generation. When the leading became obvious, I had to prepare to start, even in the face of nothing.  The backing scriptures was Matthew 6:33 "But seek ye first the kingdom of God, and his righteousness; and all these things shall be added unto you." So I knew that above all knowledge, God must be number one message to the children. Proverbs 6:22 "When thou goest, it shall lead thee; when thou sleepest, it shall keep thee; and when thou awakest, it shall talk with thee."
Victory Kiddies (Int'l Academy) was established on 5th January on our wedding anniversary. It is very uncommon to find a school starting in the second term, but this was the case that could not be explained. It was not planned to be but it came. Olamide Abike Makinde who has been a child lover both at home, church and school could no longer hold it than to pick some children for private lessons. The parents happened to meet me for a private lesson to enable their children to jump into the high huddle of reading. They were grown up but could not read, I talked to God about them and courageously took them up in no time, God took the glory and their parents started pressing me to open a proper school for them. God already made it clear it was time for me to open up, so I did with the aid of the encouragement and testimonies of these parents. God's way is different from man's, I wanted to rent a place which was under construction, but the owner failed me. He gave it out to someone else, meanwhile God ministered that, the place would not serve the population he was intending. 
We started with 16 kids and 6 teachers (Mrs Agbo Rosemary, Rosemary Okwulu, Mrs Dupe Micheal and 2 other people and my humble self. 
The support I received from these teachers and the parents in my reference was enough to push me. Mathew 6:33 was our agreement with God and its binding on us. The Kingdom message is a must-giving to the children on daily basis, this simply shows that it is a Christian school. Just as He has promised that if we put Him first, everything will be supplied. So it has been Jesus our Hero, Helper and Hope. There have been stress and storm from different places, some time ago, some people came to declare the closure of the school using the name of Jesus sarcastically, but the divine authority fell on me to reverse her negative pronouncement. The Lord (the Proprietor) would never allow His school to be close by His name. Since then, He has been in charge of His project and we follow His lead. In as much as we uphold the core values spelt out, we dread corruption of any shade among the students and staff. Christ stands for both internal and external exams, we do not give room for exam malpractice. This has not been easy in this permissive world but throughout all, God has been faithful, we have produced professionals; medical practitioners, lawyers, pilots, teachers, writers and more. Many have returned to teach at interim in their alma mata (VKA). VKA is a mission co-educational Day/Boarding School with moderate facilities, they include a computer lab, science labs, library, playground, Home economics lab, Art Studio, Music Studio, and a multi-functional hall of up to 500 seated capacity. An average VKA student is a beneficiary of a musical instrument. We have a large heart to give attention to talents, singing, drama, sports as well as academic proficiency. The PTA platform is a family forum where we meet daily to share and resolve issues before complications. VKA family members are friends, it's a place to meet to call a spade a spade and to contribute immensely to the progress of the school. VKA has extended to 4 campuses presently, VKA Ayodele campus also known as Annex is of the same standard as the main (Aderonke) campus. VKA has also extended its reach to Ibadan, Oyo state at alakia isebo,Ibadan. VKA recently opened a new campus called delight campus at Ado, New Karu. We are one in love, value and standard.
There is something a prospective parent should know and adhere to here. We imbibe verbal and corporal discipline when required. We do not leave a child to himself based on the scriptural injunction "beat him, he will not die". Only the administrative staff are allowed to do this in order not to abuse the measure. It is done in love after counselling. Note that damages are paid on any deliberate act of destruction of properties. Our belief is to imbibe values by all means because these produce a future in a child. If we must have a future in our homes and nation, efforts must be made toward building boys and girls. A child today is an adult tomorrow. If there is no childhood training, we've lost the future before we get there. Spare the rod and spoil the child. We do not appreciate open arguments or disregard of parents to teachers and vice versa, we respect the person of everyone including the little kids we are handling. VKA believes every child is unique and is born for a purpose. We believe in every child's ability (poor or excellent), He/She may just be a late bloomer. We believe everyone has a right without it, therefore the school fees are affordable yet with quality, We respect personalities but not to the detriment of our belief system and our integrity.
VKA gives attention to complaints commendations and contributions of every parent. It is not particularly beyond profit-making but life-changing. We operate as a counsellor, health givers, parents, pastors, teachers and helpers. We try to build courage in the kids for self-expression. Leadership is made of them by involving them in public speaking
Celebration: There are times of jubilation and celebrations
Children's day

End of the school year party/ Graduation day

Easter/ December Concerts

The first week of the year is the school anniversary.

Victor's lunch: This is to celebrate the best students in all the classes. We take them out to malls and take-out restaurants like Shoprite, mama cass, Mr Biggs and the likes to have time with the director and the examination committee members.

Projects

: All graduating classes must write a short storybook on the subject of their interest, have three-dimensional projects that will be submitted to the school gallery, and have yearbook pictures and albums done year to year, to 

watch them grow up

.
Clubs: Voluntary clubs such as barbing, sewing, cookery, singing, drama, and art are to be done to increase their efficiency in not just academics practices.
Moderate classroom sizes are adopted, not too small or large for maximum benefits and healthy competition. The curricular and co-curricular states are in place to develop the cognitive, affective and psychometric demands of the scholars. Everyone in VKA is equal, no breathing space for pride and display of wealth. The school uniform is uniquely produced by the school to prevent infringement and copy-cats. No expensive article allows and cell phones are not allowed in schools or hostels. We frown at physical combat, vague language and disrespectful attitudes. There is no preferential or favouritism to anybody. The suggestion box is provided for both children and parents to air their plans and views, everyone has equal rights. Returning day students are to pay before the end of the second week, while boarders are to come with their teller or receipts showing proof of payment. No collection of cash for anything, even to purchase the forms.
All books are available in the school. Books bought outside the school dependent on the situation might be barred.